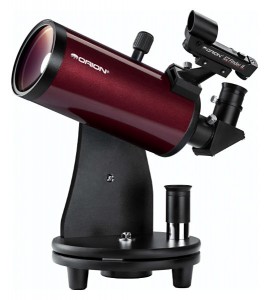 During the Summer of 2013 I started learning the constellations and viewing the night sky from my back yard with a pair of 8×40 binoculars. While these show many more stars than can be seen by eye and are great for viewing wide fields, I quickly became interested in closer views of the Moon, planets, and brighter deep sky objects, and began looking for a small telescope.
I wasn't sure how much use a telescope would see and I didn't want to dedicate space to a large one so I was drawn to Maksutov-Cassegrain telescopes, which are among the most compact designs, have a reputation for excellent optical performance, and are well suited to viewing the kinds of subjects I was interested in observing.
I found that the Orion StarMax 90mm (that's the Orion link, here it is at Amazon) and Celestron C90 (B&H, Amazon) both had many good reviews and seemed to offer great value. They are both made by Synta Optical and use a very similar Optical Tube Assembly (OTA). The main reason I preferred the StarMax was that the included accessories seemed more useful for looking at the sky than those that come with the C90, which is configured as a terrestrial spotting scope.
So in late September of 2013, I purchased the Orion StarMax 90mm Mak as my first telescope. What follows are my impressions from using the telescope over the past year and a half.